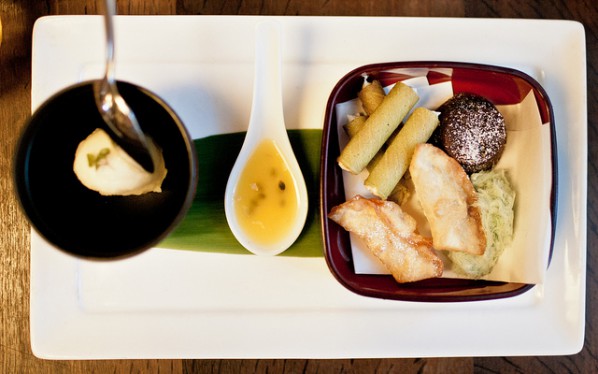 What's a city break without a fancy evening topped with dining out? Sydney is one of those cities bustling with great restaurants that come with great views, and great reviews. There are quite a few restaurants a visitor in Sydney might want to visit, drawn to either their cuisine, their flair or their integral part in creating Sydneysider culture.
Whether you are looking for a nice full meal and entertainment, or just someplace to have a quick lunch and take a break from sightseeing, fine dining is an art, and Sydney can meet the bill.
Catalina
Located just above Rose Bay, which in itself promises a pleasant view of the harbour to go with a light fish meal, the restaurant Catalina is an exquisite restaurant any time of the day, which offers great meals. It is also a popular choice with the creme de la creme of Australian socialites.
Chiswick
65 Ocean Street, Wollahra hides a precious gem, Chiswick. The rustic decor plays up an image of an autumnal garden party, and garden is the right word, for all of the meals are made with fresh local produce, picked straight out of the kitchen garden. However, booking is very important with Chiswick, which, because of its high demand, allows guests only 2-hour stays.
China Doll
Cowper Wharf Road at Woolloomooloo is the location of China Doll, a fine Asian restaurant with a modern flair that serves Asian cuisine in a very innovative manner. Have your taste buds pampered by exotic food served in a Far Eastern setting to take your breath away.
Pilu at Freshwater
Moore Road, Freshwater is where you could find Pilu, a renown Italian restaurant, adjacent to the beach. This blend of beach life, Italian food and fine dining can simply be linked to an Aussie/Mediterranean culinary fusion. Not to mention that the best way to enjoy this restaurant is to reserve a seat in the early evening, and staying there to see a beach sunset.
Monopole
Monopole is the kind of place Sydneysiders will invite their visiting family and friends to, knowing the evening will go smoothly, and everybody will be satisfied. Located in Potts Point, the industrial design of Monopole corresponds to the international cuisine served there. The house special? Wines. Over 500 vintages, both rare and boutique, are enough to please any wine enthusiast's palate, especially when accompanied by the house special – custard crème in an eggshell.
Kitchen by Mike
This odd dining hall is quite unlike anything else you will see in Sydney. Mike the chef takes away all the finery of dining, such as fancy cutlery and posh reservations, and embraces an honest, fresh, local cuisine. Whatever is on the menu that day is what Mike found at the local market that morning.
Time to rest
The hard day sightseeing, shopping, wining and dining takes a toll on anybody, and for a city so glamorous as Sydney, it would a shame to end this stylish cycle with a night at a hostel. Sydney has a blossoming chic boutique hotel scene. These come in fashionable options, with impeccable interior design, and charming gardens, and with the hustle and bustle of the city, they provide a sense of tranquility much needed.
Photo by dr. R. Lam.