Top 5 Best Countries for Hiking with your Family & Friends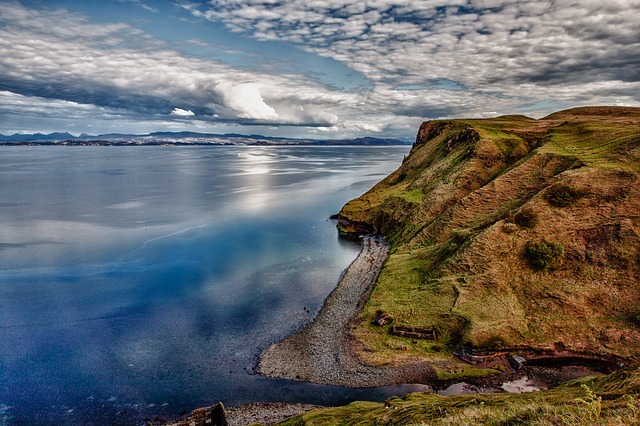 There's nothing like hiking with a big group of all your family and close friends because you're guaranteed to have a lot of fun. But choosing the right location isn't easy; you'll need to consider accommodation as well as finding the best trails depending on your fitness level. And that's why we're here for, to help you with five terrific locations that are great for hiking with your whole clan.
The United Kingdom
This is the perfect setting for a trip with an extended group where you have varying levels of endurance, and where preferences differ drastically. That's because you'll find scenarios and adventures to fit all tastes, as the landscape and weather never stay the same.
Take the Isle of Skye for instance, near the northwest coast of Scotland. You can explore the heart-pumping, awe-inspiring rugged landscapes, but the difficulty level isn't that high. The fishing villages nearby are incredibly bucolic and will make for an easier day hike, or even bike ride, if you prefer an urban landscape.
Along with that, there's plenty of sightseeing to do, with medieval castles. Or you can do some rock climbing and there are plenty of fishing opportunities on your rest days too, especially with all the salmon rivers. Plus, there are plenty of other sea creatures your kids will love to look at, like otters and dolphins.
The point is that whether you're more into exploring pubs or boutiques, sightseeing, actually hiking or doing more strenuous rock climbing, the UK has it all in store for you. Just prepare for less sunshine and make sure you get the right equipment, like the best fleece jacket for those foggy, rainy and windy days.
Greece
This Mediterranean country is another location for great family hiking trips. This time, the versatility of landscapes is taken to a whole new level with its unique combination of snowy peaked mountains and crystal clear seaside. We're talking about Mount Olympus here, but there are numerous other beaches just at the foot of some eroded hill or older mountain.
Firstly, these hills and mountains aren't that difficult to climb so you can confidently take children, people who don't have the best hiking skills or even your grandma. The trails have a lot to offer in terms of picturesque vistas, with gentle slopes that regard more abrupt wooded cliffs. Plus, there's a lot of history here, so you won't just be hiking for the landscape but also for the stories behind.
And if you get tired by a more challenging day hike, you can always take a day off and do some sun bathing and swimming. You can visit the fishermen's villages, try the delicious local specialties like the mouth-watering souflaki or enjoy the nightlife by taking a tour of the nearby tavernas.
Colorado
Another perfect location for a more extended hiking trip with your relatives and friends is Colorado. That's because this state has the tallest dunes in the United States reaching as high as 700 feet. So don't forget the unique landscape that's a geological wonder of the Great Sand Dunes when you're planning your next trip.
The best thing about these is that most people can climb up, including the elderly. Your children will have a blast running up, then sliding down. The best thing about going with a big group here is that you can have all sorts of competitions, set teams and turn the whole thing into an adventure.
You can also stroll around the park, and there's always the chance of hiking up to the High Dune peak. But that's a feat for the more experienced hikers in your group because you'll have to move up through shifting sands.
Australia
Australia has plenty of locations that are manageable for all sorts of fitness levels including children. For instance, Tasmania has various such trails that can be divided in doable distances for each day, when you're not planning just a day hike.
There are also enough camping spots or rest spots, where you can get out of the direct sunlight and regroup, rest and clean up. Of course, you'll need to read about how to get sap out of clothes seeing as you'll definitely enjoy the Australian forests.
Apart from that, there are lots of things that will keep all of you interested, no matter what your passions are. Whether you like abrupt mountains and rapid waterfalls, or you're more interested in the wildlife on the road, you can take your pick.
There are also plenty of fossils, so that's a treat for those interested in subjects like earth formation or animal evolution. Of course, the country is surrounded by the ocean, but you also have some great lake beaches on the inland.
Norway
There are different family-friendly adventures you can embark on in Norway, but the best thing about what this country has to offer is a comfortable accommodation that's perfect for bigger groups, including families with children. There are over 1000 cabins throughout this country set at different heights.
Besides, you'll be able to enjoy a diverse landscape, with glaciers and skiing, as well as beaches and swimming. So your hiking trips will always have a different entertainment at the end of the day, whether it's taking a quick bath, a stroll around the blooming forests, a picnic or a fishing spree.
This is also the perfect place to enjoy the Midnight Sun and the Northern lights. No matter how different your preferences are, your whole group will enjoy these unique phenomena, particularly the younger children.
You can also hike through jaw-dropping mountains, or go on a glacier hike. The fire towers are also must-sees since they offer amazing viewpoints, or you can try a family-friendly rock climbing adventure.
Where are you off to?
Whether you get a kick out of glacier hiking, summiting mountains that overlook the sea or sand-sliding, you can have it all. Just drop us a line and tell us where you'll be going on your next adventure. The comments are right below!
Would you like to receive similar articles by email?