Top 3 Ideal Road Trips and Quick Tips to Get You There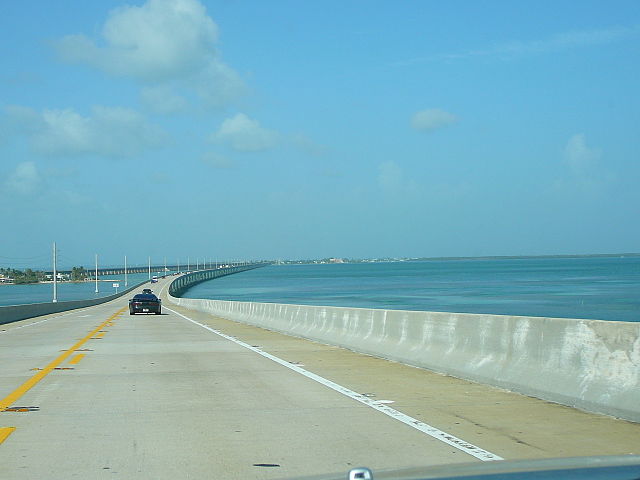 Overseas Highway, Florida. Photo by Marc Averette.
From the West Coast to the East, the temperature is soaring and so, too, is the need for a good escape from the office. Whether you're looking to distract the kids from their summertime videogame addiction or you're seeking a little one on one time in the most romantic of locales, here are our top 3 picks for an ideal summer adventure on the road.
1. The Pacific Northwest to Wyoming
From the Olympic Peninsula to Yellowstone National Park, this iconic route will have you scaling mountains, breathing in that fresh, seaside air, and reconnecting with the greener things in life. And with wide open roads that snake right through the most scenic areas, you'll find this trip as easy on your stress levels as it is on the eyes.
Fly into Seattle-Tacoma airport, where you can immediately pick up your rental car and head to a hotel downtown. If you're interested in all that this bookish city has to offer, spend a day or two exploring city highlights like the Space Needle and Elliott Bay Bookstore. Or use the city as a base for hiking popular nearby ranges in the Cascade Mountains, like Rattlesnake Lake, Granite Mountain or Snow Lake. The arrestingly beautiful Mt. Rainier also offers a number of rewarding hikes, as do the Olympic Mountains that ring the West side of the city.
Follow Highway 101 to camp along the Olympic Peninsula, stopping in La Push for a distinctly Washington style surfing session and the well-protected Hoh Rainforest.
Next, enjoy the view from the ferry as you head back from Kingston to Edmonds and then Seattle, where you'll join up with the I-90, for a beautiful 7 hour drive to Missoula, Montana. Here you'll find a quirky university town, as well as easy access to Glacier Country.
From here, drive five and a half hours to Yellowstone National Park via Highway 89 where you'll find numerous hiking spots and a great rest for those sore muscles in the Mammoth Hot Spring Area, not to mention Old Faithful.
All in all, this itinerary should take you 2 to 4 weeks, and provide you with memories for a lifetime!
2. Jacksonville to Key West
While a road trip to Florida may not seem ideal in this the stickiest of seasons, this itinerary will keep you hugging the coast for quick and easy dips in the Atlantic. Head out from Jacksonville along Florida State Highway A1A. Stop first in one of America's oldest towns, St. Augustine for a good dose of history, before relaxing at Daytona Beach. Hike, kayak, surf or swim at Canaveral National Seashore, and spot all manner of protected wildlife.
In Orlando, you'll find famous theme parks like Disney, Universal Orlando and SeaWorld to satisfy the kids, as well as the fascinating John F. Kennedy Space Center.
Once you reach Miami, you'll be ready for more time on the beach, but make sure you leave time to explore the city's many top class restaurants and museums—and keep your eyes peeled for any number of the city's famous street festivals!
From Miami, Highway 1 eventually becomes the unique Overseas Highway, which will take you over a whopping 42 bridges and right into the highly restorative Florida Keys. Finish your trip with a good lie out on white sand beaches, or an adrenaline pumping dive with the sea life. We challenge you to traverse this route and not feel a little more relaxed by the end.
3. Alaska's Seward Highway
There's no better time to visit Alaska than in the heart of summer, partially due to the seasonal temperatures and captivating wildlife, partially due to the fact that you'll get snowed in during many other times of the year. Fortunately, this trip is easy with the help of the famous and historic Seward Highway, a road that's heavy on nature, light on urbanization.
The Seward Highway is just about the same length as Florida's Overseas Highway, but you'll want to slow down and devote 1 to 2 weeks on this road alone. Heading out from Anchorage, stop at Potter Marsh to spot migratory birds in densities you won't find anywhere else in the country. Just a little ways on, you'll find Chugach State Park, a view of the craggy Kenai Mountains, and the opportunity to sample fresh oysters, right from the bay.
Bring your fishing rod along for Bird Creek at mile 101—though be prepared for a little competition with the local sea lions. Just 4 miles away, stop at Bird Point for a little beluga spotting. Further along, fields of wildflowers bursting with distinctive colors and patterns will mark Girdwood, an artsy town that will provide the perfect night's respite.
From there, head out to Mount Alyeska for a hike past or over both mountains and glaciers, and then through the wetlands of Portage Valley. Then it's over Turnagain Pass, where you'll find ample hiking trails, and Canyon Creek, which provides the perfect opportunity to kayak on glassy water, all with the mountains reflected in the distance. Stay in the idyllic town of Moose Pass before you reach Seward, where you can fish, camp, hike or just take in the sights and sounds of the bustling harbor. Last but not least, at mile 0, enjoy the absolutely stunning Resurrection bay, which features a fjord and sea life that ranges from otters to orcas.
Tips to Help You Get There
To make the most of your trip, you'll want to ensure you're devoting all of your time to the adventure, not waiting for a tow truck on the side of the road. Here are just a few preventative measures you can take on your way towards the most idyllic road trip possible.
Bring your car in for a pre-trip tune up. If you're going to be bringing your own car, take it to a mechanic you trust before you leave. A few things you'll want examined include the cooling system, the tires, the air conditioning and the transmission. You'll definitely want to change the oil, and be sure to check the pressure in your spare tire as well in case of a flat. Even if you're renting, make sure to bring a repair kit for the back, just in case it's not included.
Join a travel club. Whether it's AAA, the Better World Club, or another club of your choice, you'll find these services invaluable should anything happen on the road.
Know your limits. Road trips are a vacation—relax! There's no room for road rage here, nor is there any reason to drive 18 hours straight. Stop every couple of hours to stretch your legs, and build in plenty of tourist stops so that you can refresh before heading onwards.
Don't overload the car. Even if you don't have the TSA and airlines limiting your luggage, avoid the temptation to take your whole life with you in the car. Not only does this make you a potential target for crime, overweight cars get poor fuel efficiency and are more likely to break down.
Bring plenty of entertainment and nourishment. That said, make sure to bring enough toys and media to keep both you and the kids occupied as you go. Tablets can be invaluable on trips like this, as are podcasts and audiobooks. Make sure to bring healthy snacks like trail mix and dried fruit, and perhaps even oatmeal and cereals for easy, inexpensive breakfasts.
In Short
We live in a beautiful and varied country, and summer provides an ideal time for exploration. So map out that itinerary, load up that car, and learn what the great American tradition of open road exploration is all about.
Would you like to receive similar articles by email?