Things You Should Know Before Planning a Tour to Sahara Desert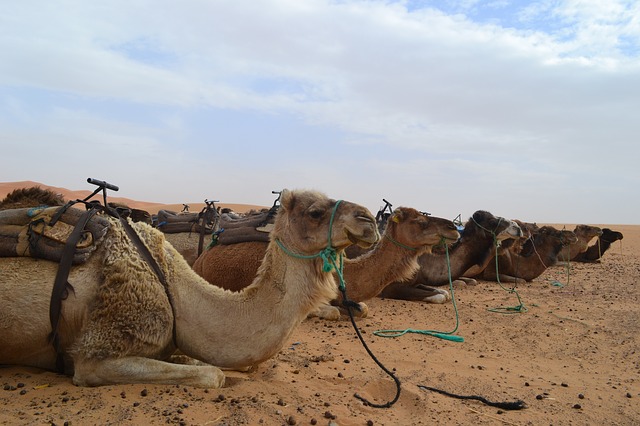 When someone says about Sahara Desert then you automatically crafted some images in your mind like Camels and orange hued dunes. When I was like 8 years old I used to play that Game named "Aladdin" in Sega games (most millennials will get what I am talking about) and always wanted to visit that place. Last year I was fortuned enough to visit that place. In this Short Guide I will tell you the Good the bad and experiences I had. These would be my views on the base of my recent tour to Sahara desert so please do not take it very seriously it would be just my experience. So, without further ado let's jump in to it.
1. Impossible to Explore Sahara Desert in a Day
Merzouga which is a small village in a southeastern Morocco, the gateway to the Sahara, is about 340 miles or around 550 kilometers of winding mountain passes and bewildering curves away from Marrakech. Marrakech to Merzouga desert tour itself takes a lot of time and you should definitely visit this village, Most of the tourists offer 3 day trip to merzounga. Anyway, If you should not expect to reach the Sahara Desert in a day from Marrakech. At a bare minimum you should expect minimum of 3 days with lots and lots of driving.
So, if you are planning for a day trip then stop thinking of it. In a day trip you will not be able to see the mighty dunes in Merzouga and Erg chebbi. If you are in a hurry and have only 1 day then I really recommend to do a camel ride through the rocky desert and palm grove located outside of Marrakech.
2. Sahara Desert is more Mystical then you Anticipate
I have visited and stayed in more than 50+ countries and I still finding something more alluring then Sahara desert. It is definitely the most beautiful thing I have ever seen. I still remember the contrast of blue sky and orange dunes with perfect formations of rippled sand.
The delicateness of the orange sand, the marks of footsteps ingrained as you walk left magical trails in the sand, the sky looks very different in Sahara desert at night you could see the black sky decorated with bunch of stars. There is simply no comparison of Sahara desert.
3. Things You Should Know Before Booking Your Tour
In my opinion you should always book your tour in advance, and before booking you should read the reviews of the agent or agency. Read carefully what is included in the tour like number of nights, dinners, lunches, breakfasts, taxis, entry fees, petrol, and camel rides etc. Also, do not hesitate in negotiate but do not receive a cheap service because you may get poor service in low price. One more thing if they settled down in a low price then they will definitely charge you from somewhere else. Like they may told you that A.C in the van is broken or may charge high in breakfast or in lunches so beware beforehand on these kind of situations.
4. Best Time to Plan a tour in Sahara Desert
From February to May which is the Mid-season is in my opinion the best time to go out there. While in June to September is extremely hot. October to November is also a good time but the Monsoon usually hit there at this time and December to January is Unbearable freezing there.
So, I must say if you made up your mind to Visit Sahara then keep appropriate clothes with you to keep you warm because at night temperature usually hits to 0°C and also keep some scarf for the day to protect yourself from heat because at day temperate can go up to 40°C. You must have to keep these things in mind because no matter the season the temperature rate in desert is really variable.
5. Always Live in Reality
The price range of Sahara Desert excursions differs a lots. I literally saw in a blog that they charge $800 for 3 days desert tour and lowest I have read is $85. But as I said do not go up for the cheap service because you will not get the luxury treatment at cheap price.
Most tour cost somewhere between $100- $800 price range for 3 days, 2 nights In Sahara desert and it is the fair price in my opinion. The tour that I have booked is around $130 and they have some of the best services to offer. 3 days desert tour from Marrakech is the main highlight there and I recommend to book an excursion with them.
6. Riding Camel is way Different than riding a horse
If you are fascinated by a camel ride then let me break your fallacy. Camel riding is the least comfortable thing I have ever experienced. I am very amazed that how someone can train a camel to be ridden after having a short ride on it. Also I strongly recommend to wear full clothes when riding the Camel specially cover your legs because you can get an allergy from it. Despite having uncomfortable journey on Camel I will do it again because the views from riding the camel bring you to 15th Century. You get the feelings on how these people in Sahara would live Centuries ago.
7. Expect Long Days of Driving With Dull Stops
As I said before it takes 2 days in a Van from Marrakech just to get to the Sahara Desert and it does not include 10 hours of back time. So, if you 2-3 weeks in Morocco then it's perfectly fine and you should explore every inch of Sahara. But if you have on a limited time then it's a lot of time in a Car.
Stops Include UNESCO site of Ait Ben Haddou where some of the shots of Game of Thrones were filmed. Most of the stops are just unnecessary aimed just to charge more from you. Usually they stops every 50-100 km for bathroom and refreshing.
8. Do Not Forget to Take Nausea Pills
The road to Sahara desert has full of twists and turns because you have to pass Atlas Mountains and Dades Gorge to reach there and both of these involve limitless barrette turns. You can easily catch motions, nausea as I did. I managed to overcome the dozing state by eating pills. I have eating Motilium, with Panadol which works for me. I also bring Flaygl for stomach. Anyways I recommend you should consult doctor before taking any pills but I know these medicines suites me so I bring those with me.
9. Bring at least $100 with you
There are lots of little add-ons in the entire Sahara Desert tour that end up increasing the cost quite a bit. Like they charge $1 per water bottle, $2 for soda or any other beverage, tips for various people who helped you and for shopping along the way. Also, your guide would take you to the unsuitable eateries for lunch, and it cost more than the meals you could find in Morocco. Most of the meals starts from $10. But In my opinion, it is pretty standard and $10 is pretty low in Sahara Desert.
10. Consider the advantages and disadvantages cautiously
Although I have just good things to say but some people who visited Sahara has a mixed bag of feelings about it. In my opinion it is a must visit place and every single person who affords must visit it once in a lifetime. Women could also go out there solely without any fear but for a women I must say you have to be very careful otherwise you will get frustrated on your way to Sahara desert. Just not try to be very friendly with every one and try not to be rude also. Wear full clothes and I am very sure you will get the positive experience as I did. For women if they feel unprotected or harassed then I recommend to rent a Car and drive through the Sahara desert. 2 years ago my female friends did this. But if you are alone and do not have a travel buddy with you then I recommend you to go there on a Van.
Would you like to receive similar articles by email?