Moving to Dubai? 8 Things You Need To Know Before You Go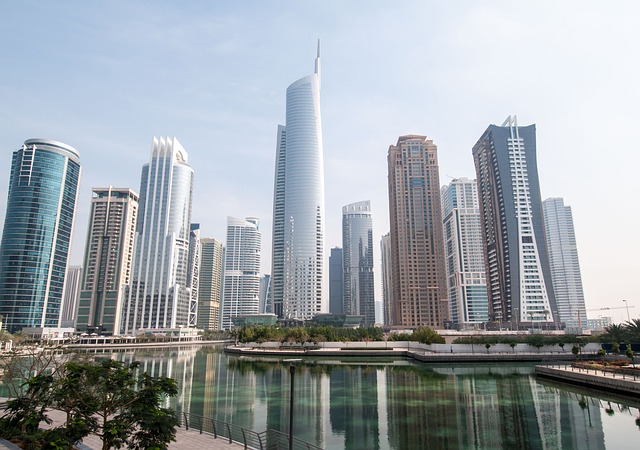 Since 1975, Dubai's economy has grown faster than any other world city or nation-state's. That's according to the Dubai Economic Council, per The National.
With plenty of desert left to consume, the good times look set to continue. Writing in the Khaleej Times, Isaac John foresaw Dubai as the strong man of a weakened UAE in 2016; his predictions pretty much panned out to script.
It goes without saying that Dubai's population growth has tracked its economic explosion. Once a sleepy fishing village, Dubai is now a bona fide world city—one of the planet's most dynamic, innovative and just plain exciting places.
If you've got an ambitious bone in your body, chances are good that you've at least considered a move to Dubai. And if you're following through—whether at your own initiative or at the behest of an employer—you're in for one wild ride.
Just remember to do your homework before you arrive. Even if you've spent time in dynamic cities, Dubai is in a different league. Here's what you need to know to get the most out of your time in the world's most interesting desert city.
1. Dubai Is Really Hot
Not economically hot. Hot hot. As in, don't-go-outside-if-you-don't-have-to hot.
Dubai has a hot desert climate. The "cool season" is winter, when highs top out only in the upper 70s, and cool evening breezes actually make outdoor activity enjoyable. Come April, things heat up, and by July, the city-state is positively sweltering. Summertime highs routinely top out north of 110 degrees, with crushing humidity (thanks to Dubai's beautiful seaside location) adding to the misery.
And if you're expecting rain to cool things off, don't. Dubai sees a few showery days each year. More like spritzes, actually. Rain is much more likely during the winter, when temperatures are manageable without any added moisture.
Long story short: breathable fabrics. Wear 'em, love 'em.
2. Serious Work Happens Here
Dubai has a glitzy, glamorous reputation, but that's only part of the story. Some of the Middle East's best-regarded charities are located here: Al Noor Training Centre, Dubai Foundation for Women and Children, Angel Appeal, Autism Rocks. And the Dubai Chamber of Commerce presides over a dynamic economy that seems to attract a headline-making investment every week. Dubai's serious side supports its playful side—not the other way around.
3. You Can Party—If You Know Where to Go
Of all the many myths about Dubai, the "Las Vegas of the Middle East" trope cuts the deepest. Yes, Dubai is ostentatious. Yes, the economy is built in part on the backs of tourists. Yes, compared with many other cities in the Middle East, Dubai is open and liberal and welcoming.
Dubai is all those things and more. But it's also not a debaucherous free-for-all.
Dubai has too many world-class bars, clubs and restaurants to name. But if you're expecting a hedonist paradise on the order of Vegas, New Orleans or Macau, you're going to be disappointed.
Case in point: The use of alcohol is highly regulated here, more so than in most Western capitals. The aforementioned world-class bars and clubs are primarily located in touristy areas, and they're not as well-marked as their counterparts in Paris, London or New York. They're not speakeasies, exactly, but you generally have to know where you're going. Most joints' entrances face into hotel lobbies or mall interiors, not public streets; many of the fanciest places jut out into Dubai's expansive harbor or float high above the city in sky lobbies.
4. You Will Have Multiple First-Time Experiences
Dubai might not be the Vegas of the Middle East, but that doesn't mean it's staid. The longer you spend in Dubai, the more likely it is that you'll experience something truly bizarre and unforgettable.
Indoor skiing? Check. Looking down on creation from the top of the world's tallest building? Check. Walking the quay on the world's largest man-made residential islands? Check. Getting pulled over by a cop driving a Lamborghini? Hopefully not, but potentially check. The sky's the limit in Dubai, literally and figuratively.
5. The Best Night Spots Are at International Hotels
Dubai's arm's-length relationship with Western pleasures is a minor inconvenience for American and European tourists and expats looking for reminders of home. But it's really more of a challenge, not a dealbreaker. If you're looking to drop some serious cash at a tony nightspot or chic brunch club (of which there are surprising numbers), you'll likely find yourself in the lobby (or sky lobby) of an international hotel. When it comes to places to see and be seen, Dubai's hotel district is the place to be. Just remember to make reservations: Since there's a lot of money and relatively few hotspots here, seats fill quickly during prime time.
6. The Door-to-Door Economy Is Really Advanced
Thanks to Instacart, TaskRabbit and Amazon Prime's increasingly rapid same-day delivery service, door-to-door delivery is coming into its own in the United States and other Western countries.
In Dubai, they just laugh. Super-fast door-to-door delivery has been a thing in Dubai since early in the internet age, thanks to the city's dense built environment and punishing heat. If you don't want to leave the comfort of your air-conditioned apartment to get something, don't. Have someone else (with an air-conditioned car) bring it to you.
7. Sunday Is Not a Weekend
Quirk of the calendar. Not a big deal, but definitely important to remember: In Dubai, Sunday is Monday, and Thursday is Friday. Put another way, the two "off days"—the weekend—are Friday and Saturday. Remember this when you make your evening plans.
8. Eid Is Like Nothing You've Ever Experienced
Ramadan, the ninth month of the Islamic calendar, is a case study in delayed gratification. Eid, the all-out festival that follows Ramadan, is pretty much the exact opposite. If you want a reservation at a super-fancy restaurant during Eid, start trying early or don't even bother.
What's the one thing you'd like to know about Dubai before visiting or relocating there?