The Latest Trend in Camping: Glampers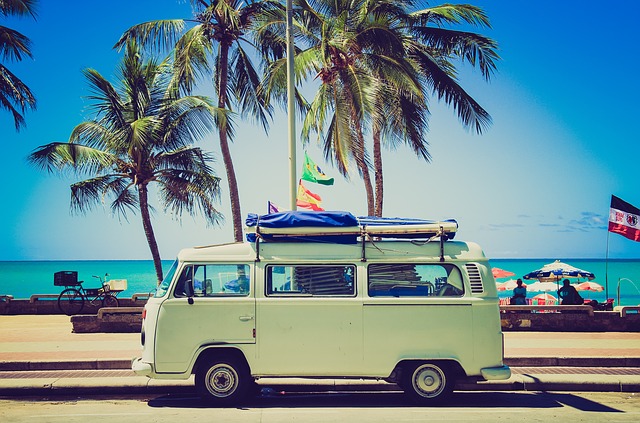 Last year, after months and months of saving and planning, I bought myself a motorhome in the hopes of spending a few months traveling the country in comfort and style. Little did I know at the time, that the "in style" portion would not be an option. My budget did not allow for anything newer than 20 years old, and unfortunately, older RVs are either drab or all-out tacky, there is no in between. I finally settled for a 70's era with brown and orange everything (anything was better than the awful mauves and dusty blues of the late 80s and early 90s.)
What I didn't know at the time was that there was a new trend emerging: glampers. Glampers (glamorous campers) are just old RVs refurbished or refinished to look adorable. DIYing your own camper is definitely the cheapest (and funnest!) way to get the "style" aspect on a budget.
A friend of mine, Whitney Pollard, took on a camper renovation a few years ago. Her and her husband spent $450 on materials, and in only three months of weekend demolishing and rebuilding, these were the results:
Photos courtesy of Whitney Pollard
Whitney's two favorite parts of the process were the demolition, which she called, "quite therapeutic," and the relationship building aspect. She said, "The things we learned about each other's working styles, frustration levels, and overall ways of doing things was a real benefit to our relationship. We now tell others: if you want to challenge or build on your relationship, do a renovation project together. You'll soon know whether you can work well together or not."
She also said that "sealing the outside of your camper is the most important thing to do and do right." The last thing you'd want is for all of your hard work to go to waste when your camper gets ruined by water damage. Do your research and make sure you use a sealant that's right for your roof, and if you're preparing your rig for winter storage, print off this storage checklist to make sure your RV will last the winter without damage. If you're in the market for an RV, then prior roof damage should be a deal-breaker.
The Pollard's did a pretty stellar job reinventing the interior of their camper, but don't forget that the outside can be just as glamorous as the inside. MaryAnn Zimmerman from LaGrande, Oregon, snazzed up her camper for the world to see:
Photos courtesy of MaryAnn Zimmerman
And, the inside is just as vibrant as the outside:
Photos courtesy of MaryAnn Zimmerman
I am quite impressed with their results, and I can't wait for the weather to warm up so I can get to work on mine. If you're thinking of taking on a refurbishing project yourself, there are a ton of pictures and ideas on Pinterest to inspire you.
If you have any thoughts on this new trend, or pictures of your own refurbished glamper, leave them in the comments. I'd love to chat!