Could Going on Holiday Really be Good for Your Health?
Who does not love a good holiday? Some guaranteed sunshine, perhaps a nice beach and even some fun activities to get involved in – what is not to love? But, of course, the stress of finding the ideal destination to please everyone in your group, getting the bags packed in time and within your airlines weight restrictions as well as getting everyone to the airport in time to make it through check-in and security before the plane could leave you even more stressed than if you stayed at home. So are holidays really that good for you? Well according to the research published in the Telegraph they really are.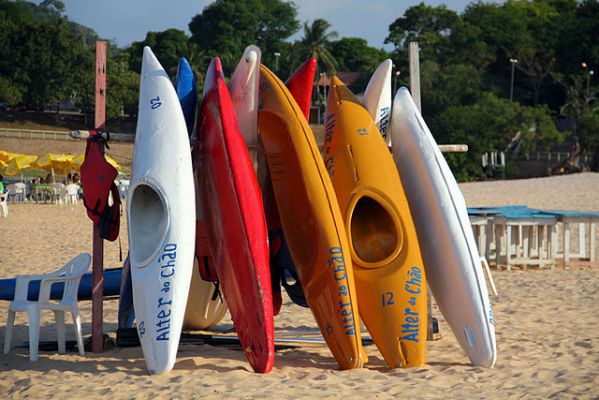 Kayaks near lake in Alter do Chão, Portugal. Photo by Ido.
A lot of people can only afford cheap holidays but that doesn't mean you won't be able to relax
Forget the stress
Holidays really do offer the chance to reduce your stress levels. You might not think so as you search high and low for your passport five minutes before your airport transfer arrives, but actually the minute you get to your destination you can almost feel the blood pressure settle. And whether it is the sound of the waves lapping through your apartment window or the promise of some lively outdoor pursuits to get involved in, you start to unwind and stress levels lower.
And because your stress levels are lowering and all those little niggling day to day thoughts in your brain start to disperse you will find that you are able to sleep better. The chance to ignore the alarm and sleep in or the novelty of taking an afternoon nap means you should be getting both the right amount and the right type of sleep to fully recharge your internal batteries.
Re-connect with the family
The thought of spending 24 hours a day, seven days a week with your loved ones could seem daunting if you were at home, but on holiday it is a different story. Whether you are a busy working couple, a lively family unit or a group of friends, a holiday will give you the opportunity to spend quality time together and have some fun. No dance lessons to rush to, no school commitments or long working hours, just the chance to try something new together or simply spend some time catching up next to the pool and the closer you all feel the happier you will be.
Any kind of break will do
Of course, a rejuvenating break does not have to mean forking out for an expensive break half way around the world. And let's face it, with the recent credit crunch still hitting us hard not everyone can splash out on a month long trip to a luxury spa hotel. A lot of people can only afford cheap holidays nowadays, but that does not mean you cannot take advantage of the same benefits.
Whether you find some cheap flights and grab a long weekend or opt for a value for money package deal, just being somewhere new with the people you love will officially help you re-charge those batteries and give you the chance to shed the daily restrictions of busy working lives, sit back and finally relax.