Beautiful Hikes and Trekking Tours to Take When in Greece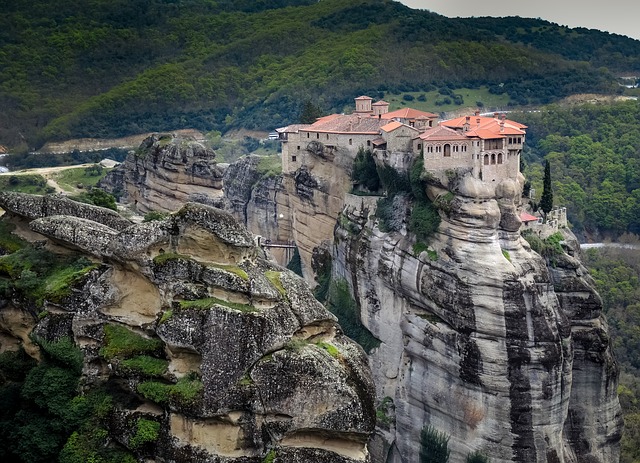 Who doesn't want to go to Greece and see the beauty it has to offer? Hiking and trekking it is the best way to see this amazing country! In this article, we are going to explore the most beautiful hikes and trekking tours you can find in Greece. They're so great that you will be ready to plan your trip to Greece as soon as possible!
Hiking Zagoria and Meteora
During this amazing hiking trip, you will not only descent Vikos Gorge, but you will see Dragon Lake and visit natural swimming pools. Both Zagoria and Meteora are breathtakingly stunning, so bring your camera!
You will start and end in Athens, which is historic in itself, on this 7-day journey. On Day 1, you are going to visit the Rizarios School of Handicrafts and learn to about weaving and textile. Then, it's off to the Agia Paraskevi church, and the cliff hanging trail! Next is the stone forest, and that's only the first day!
You will then go to Vikos Gorge and up to the stone steps called the Vradeto Steps from the 16th century on your way to the highest village known as Zagori. You will then experience incredible views that will leave you in awe. From stone bridges to the Vitsa steps made of stone, you won't believe your eyes.
Once you cross the alpine scenery, you will see Dragon Lake, which is at 2,100 meters in altitude, and you will stay at a mountain refuge in Astraka where you will be fed homemade meals before going back to Athens.
Trekking Kythnos Island
Kythnos Island is off of the coast of Greece so you will be boating for a big portion of this journey. Starting in Athens, on this 6-day trek you will stay on Hora, and experience the old style churches, as well as restaurants and taverns.
From there, you will see the spectacular Orias Castle where you will find ruins from the Byzantine Castle itself. In this particular area, there are many birds, as well as sheep and goats. Take a dip in the hot spring here!
You will then venture through Bryoksastro, where items have been found that predate Jesus Christ. It may get dark while you are out, so make sure to have the best rechargeable flashlight for the money. A nice trek follows to the Apokrousi beach with picturesque views. Along the way you find a honey farm, and beautiful flowers and shrubbery at Panaghia Mathia, as well as olive groves.
Take time on FLambouria Beach to see the flowers and tamarisk trees, which is near the famous Kolona Beach!
Greek Islands Hike
You are in for a treat here! This 8-day hike will take you from Athens to Cyclades and back. You will need to take a ferry to Naxos at the Piraeus Port. Once you arrive in Hora, you can visit craft shops and chapels or have lunch. When you reach Palatia, you will see ancient marble used for a gateway to the Apollo temple.
The next leg of the trek takes you through scenic forest lands from Filoti to Apiranthos, which is a medieval village. Here, you can explore villages and churches of old times.
Head to Santorini for some of the most famously amazing beaches, where you will see a volcanic cone. You will look onto the Mediterranean Sea and soak in the view!
You will then trek from Thira to Oia and visit the ferry to Paros and walk the ancient paths here and visit the coastal villages like PIsso LIvadhi before heading back to Athens.
I recommend getting a hiking GPS with you to make sure that, if you get lost from the group, you'll find your way back.
Karpathos Island Tour
If you find that you prefer a more botanical tour, you can hike and trek through Karpathos Island, which takes about 4 days to get through. Once you arrive at Olympos Villae, you will see a settlement that is on a hill by the sea. The local botanical plants are picturesque, as you will see.
From there you will pass through the Avlona village and can take a botanical guided tour to Diafani.
Now, you get to climb the mountain! You will be in the North Karpathos Profitis Elias mountain range and will trek to Argoni, where you may come across frogs called the Pelophylax Cerigensis, which is native to the region.
You now can go from the mountain to a boat to Saria Island for a little relaxation on the clear beach with the sand between your toes, as your trip winds down.
Mount Olympus Tour
Going from LItchoro and back will take you 4 days on this trip, where you will trek to Mt. Olympus. You will ascend the mountain and take the Gkortsia to Petrostrougka Route, which is a popular path on the mountain. Here you will hike through the forest where you will see fir, beech and pine trees.
The trail will take you to the Plateau of Muses where you can take in nature all around you and can even go climb up Profitis Ilias and Toumba, a small peak that lets you overlook the gorges and summits of MT. Olympus.
You can then take the main trail to Stefani, a summit also known as the Throne of Zeus. From there, you will go up Mytikas, which is Greece's highest peak, which contains a thin gorge. Heading back, you will go past the St. Dionysus monastery, view Enippeas gorge, and see several tiny lakes. People say the beauty is stunning and unforgettable.
Conclusion
Now that you know what Greece has to offer, in terms of beauty and nature, you are now informed enough to choose a tour and have the time of your life! We sure hope this article has helped you choose Greece for your next vacation, and hopefully, you will visit one or more of the hikes and treks we have listed here. Now, let's get packing!