6 Ways Technology Can Improve Your Travel Experience
Long gone are the days when you had to worry about getting lost in a strange town or communicating in a foreign land. Travel technology is so advanced that you're practically able to teleport to your desired location. Even though that's still a few years away, there are countless ways technology has improved the travel experience.
Get Lost Without Getting Lost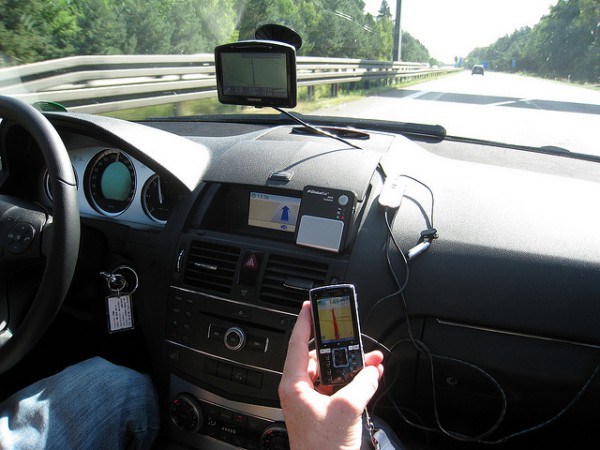 Image via Flickr by mroach.
For a while there, road trips and spontaneous travel took a bit of a popularity dip. No one wants to get lost in a new place, whether they are at home or abroad. That's understandable, because while it's somewhat thrilling to get lost in a new place, you still want to find your way back again. Thanks to GPS technology in cars and on phones, it doesn't matter where you are. You can explore back roads and byways without worrying that you'll run out of gas or end up stranded.
Ten Thousand Travel Apps
Mobile phones and tablets make travel ten times easier, all thanks to apps. There are apps for everything, from maps and hotel reviews to built-in itineraries and city guides. If you have a phone and a connection, you can discover anything, no matter where you are. Discover the best sushi restaurant in Tokyo, the best wine bar in Paris, and the best safari package in South Africa, all at the touch of a button.
Get Inspiration in Your Pocket
If you're looking for fresh new vacation ideas, you no longer have to buy or borrow countless travel books and magazines. All you need is an Internet connection, whether it's on your phone or your computer. Check out Pinterest, go to Lonely Planet, or simply ask the people on your friends list. You'll get a great idea in no time and start your next adventure.
Security Against Scam Artists
If you ever worry about having your possessions lost or stolen while you're traveling, technology helps you there as well. There are apps and security measures that keep you safe from the criminal element. You can equip your bags with foolproof alarms and keep track of your luggage while it's in transit, all with the help of technology.
Always Speak the Language
Before, visiting France, Italy, or China without knowing the language meant a hit-or-miss vacation in terms of communication. However, with the technology available on phones, tablets, and even independent devices, you can basically carry a translator in your pocket. However, if you want to learn a particular language as quickly as possible, websites, DVDs, videos, and countless other high-tech options get you fluent.
A Picture's Worth a Thousand Words
While photos aren't important to every traveler, many adventurers treasure their vacation memories. With cell phone cameras, mini cameras, and high-tech point-and-shoots that all allow you to upload your pictures and videos to a variety of social media and photo sharing sites right away, you'll never lose another vacation picture. You can make your memories permanent in an instant, all while sharing them with friends.
Trains, planes, and cars are still necessary travel accoutrements, but technology makes everything else easier. What tech gear do you need when you travel?