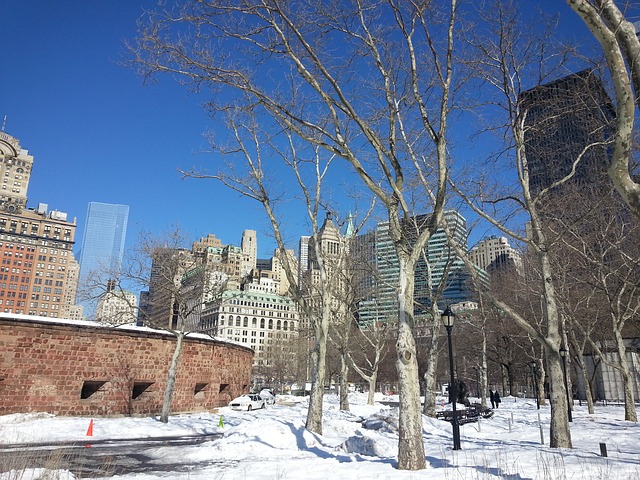 If you are interested in studying the history of World War II, New York City doesn't have many options to offer. Therefore, you will need to take the majority of your research online. However, there are several memorials and exhibits that you must see in order to get a better idea of the magnitude of the conflict, which changed the world forever.
1. East Coast Memorial in Battery Park
East Coast Memorial commemorates all those heroes who gave their lives fighting all over the Atlantic Ocean during WW2. 4,611 names are listed on that memorial, those are 4,611 people whose bodies were never recovered and this piece of granite is the only place where their families can come to pay their respects.
A visit to this memorial is a humbling experience. Gray walls covered with names cannot fail to make one feel the acute loss of so many lives that will never have a future. To think that this war claimed over 55 million humans is staggering.
2. Museum of Jewish Heritage in Battery Park
While you are still in Battery Park, you should visit a museum where you can see the most hideous part of WW2 through the Auschwitz exhibits. The Museum of Jewish Heritage presents an exhibit of true horror that was the Holocaust. Learning about war is never easy, but witnessing these memories is imperative to understand how truly inhumane it was.
These exhibits show despair, yet one should look at them and focus on hope for the future. Those indescribable horrors were stopped when the armies of the world banded together to oppose the threat, which committed those inhumane acts. Remembering those awful events is essential to prevent history from repeating itself.
3. Brooklyn War Memorial in Cadman Plaza
The biggest WW2 memorial in New York City, Brooklyn War Memorial commemorates over 300,000 residents of Brooklyn who fought in World War II. The memorial itself only has about 11,500 names on display, but it's dedicated to every person who spilled their blood and sweat to help bring the end to this horrible war.
The walls filled with names are overwhelming until this day. Sadly, the hall with the display is rarely open to the public. This might be one of the reasons why the memory of the WW2 tragedy is fading in the eyes of the younger generation.
In a way, this might be a good thing as who wouldn't want to shelter their children from such horrors. On the other, learning from history is essential in order to avoid repeating its mistakes.
4. New York Historical Society Museum & Library in Central Park West
The famous WWII & NYC exhibit by the New York Historical Society is no longer active. However, you can find many documents and memorabilia in the archives there. What's more important, there are many programs that teach the audience about different aspects of World War 2. For example, not so long ago the Society hosted a talk Fascism: A Warning, during which Madeline Albright and Philip Bobbitt discussed the history and resurgence of fascism and its position in the society today.
Follow the announcements from the New York Historical Society to know about any other events during which you can learn more about this dreadful war and its impact on society, which can be felt until this day.
5. National Warplane Museum
For the most enthusiastic learners who want to step out of NYC in order to find out more about World War 2, a visit to the National Warplane Museum must be on the menu. The museum is located in Geneseo and hosts annual Geneseo Airshow, during which you can see WW2 aircrafts in action.