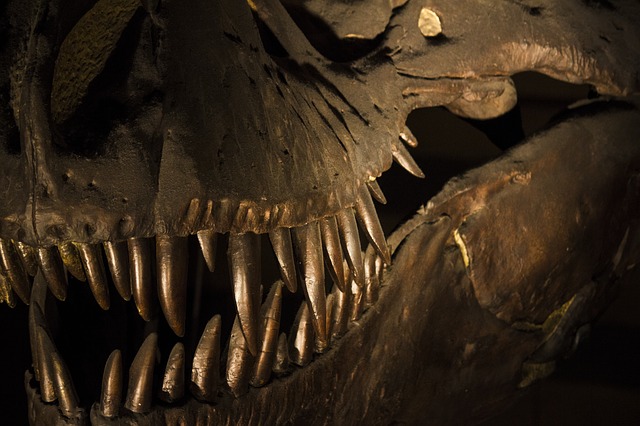 Denver is a place that has many attractions for both the children and for adults who are children at heart. From the aquarium to the botanic gardens and the museum, you have a lot on offer. So, one fine day we planned to visit Denver and take in the sights. The drive to Denver was tiring and I was advised by a friend to park in the DIA airport parking and take a cab or shuttle ride. Dinosaurs trumped fishes and plants and hence our first stop was the Denver Museum of Nature & Science.
There are many attractions for the visitor at Denver Museum of Nature & Science including a planetarium, an IMAX theatre and the many exhibitions that are regularly held. Since we wanted to check out dinosaurs, we headed straight to the Prehistoric Journey exhibition. We were able to see a T-Rex and various other dinosaur species. The way the exhibition teaches us is an experience in itself. Doctoral students help us experience the museum. The way the skeletons have been assembled is itself amazing. Children just loved it and the volunteers were able to answer even their most innocuous queries. Observing palaeontologists as they go about their work was inspiring.
The highlight of the visit was watching the Allosaurus and Stegosaurus battling it out. We also loved witnessing the variations in the Earth's climate. If you ask how it feels to touch fossils of animals that were there in existence millions of years ago, my answer would be 'it was a divine feeling.'
From the Prehistoric Journey Exhibition we moved to the exhibition known as – Mummies: New Secrets from the Tombs. Here we were shown some rare mummies from Egypt and Peru. We were also informed about the new technologies and how technology along with DNA analysis is helping researchers to discover a lot about the ancient cultures and the people of the region. We also saw coffins, tools that were used to mummify animals and humans. Apart from human mummies we were able to see mummies of birds and animals too.
For lunch we visited the T-Rex Café and had tomato bisque soup and then gorged on burgers with caramelized onions and pizzas with spinach, red onion and cheddar cheese. It was a truly sumptuous lunch.
Next we headed to the Planetarium and we were able to watch a live show called the Destination Solar System. We travelled on the Space Express and were able to learn a lot about our solar system including the hottest spots, the coldest spots and even the stormiest spots in the solar system. There were other shows too but we felt that the solar system would be a good experience and we were not disappointed at all.
After enjoying ourselves at the Denver Museum of Nature & Science, we headed to our hotel to relax and unwind so that we could take in the remaining sights that the wonderful city had to offer.