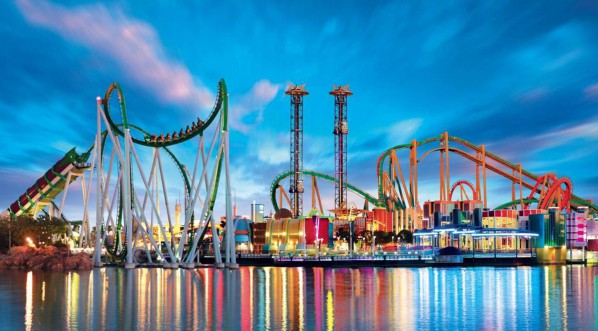 With the holiday season only rolling around once a year, we think it's perfectly acceptable to indulge a little during special events and occasions, like going to Disney! But don't fret about there only being candy for the kids to indulge in, there's plenty of adult treats to be had too!
Insider tip: Disney is several miles away from most hotels, which is why you'll want to take the I•RIDE Trolley. The trolleys shuttle you from your hotel to all of the theme parks so you don't have to worry about parking, fees or driving if you want to have some of those adult indulgences we mentioned.
Speaking of which, these are some of our favorite holiday-themed cocktails you have to try during your trip to Disney:
1. The Winter Dream William's Punch
If you're an eggnog fan, you're definitely going to wish you had a glass of this. This winter punch is a creamy white wine with a dash of spices served hot with a heaping dollop of whipped cream to top it off.
Even though eggnog lovers will love this concoction, there's enough differences where those that don't like eggnog should still give it a try. Unlike what you typically buy at your local store (that you later add liquor to), the main ingredient in this punch is white wine and it's not as horribly thick as what you buy in the jug.
2. Snowball
Don't worry, this isn't like the white-washes you got as a kid during wintertime. Although the Snowball is still icy and cold, you'll be happy to indulge after working up a sweat when wrangling up your kids all day.
Basically a creamy (and alcoholic) vanilla shake over ice, the Snowball has Kahlua coffee liqueur, Bailey's Irish Cream, Amaretto and half and half. By the time you add the whipped cream and dash of cinnamon nutmeg on top you've basically got the entirety of the holiday seasons and all the warm fuzzy feelings it gives you in a glass.
3. Christkindles Glühwein
When I think of the holidays and traditions, Glüwein always comes to mind. While my grandmother no longer has the patience to put together this festive drink, I can always count on Disney to pull through!
Made in a hot kettle or pot, red wine is mixed with citrus (mainly orange) and spices including cinnamon, clove and nutmeg. Epcot (the specific stop is Germany) then serves it up in a plastic cup that's just a little bit larger than a wine glass with a handle, and it's only $8. Personally, I think it's so good I'd be willing to pay $12 (don't tell Disney I said that though).
4. Heather & Honey Sidecar
A mix of Dewar's Highlander Honey, St. Germain Elderflower Liqueur, Agave nectar, and fresh lemon juice certainly makes for a unique cocktail that isn't like your typical sidecar, which is usually made with cognac and orange liqueur.
For someone who enjoys the art of a good cocktail with prime ingredients, and always can appreciate a classic with a modern twist, Disney's sidecar won't disappoint.
One of the newer additions to the Disney cocktail menus, the Heather and Honey Sidecar is sweet and smooth, garnished with a sugared rim and can be found at the majority of the Disney resorts.
5. A Jolt of Java
Although Disney serves up these adult coffee beverages year-round, the only time you'll really be in the mood for these drinks is around the holidays when the temperatures dip below the mid-70s.
If we can't have snow, you can bet we'll be clutching on to our hot coffee when it's cool enough for a light jacket and closed-toed shoes, and these drinks are exactly what us Floridians want in our mugs.
The Tangierine coffee comes with orange liquor, the Kasbah with hazelnut and the Casablanca is vanilla. Add some whipped cream and a dash of cinnamon for holiday pizzazz and you've got a great drink for warming up during the holidays.
While we can't possibly claim that some of these drinks are less calorie-packed than others, we can say that it's an indulgence you probably deserve after corralling the family around Disney all day.
Plus, you're in paradise at Christmas, it's time to live it up. Oh, and have one for us, too!
Disney World panorama photo by EnclaveSuites.com.