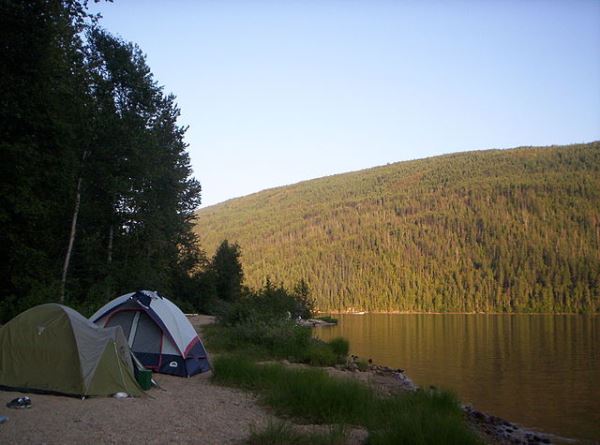 Green living doesn't stop when you leave home for a holiday. Camping is a simple way to spend time with people that you love, but you may find that you use more disposable products while in the great outdoors than you would at home. Finding eco-friendly solutions that are convenient enough for camping allow you to preserve the forests, lakes and streams in your camping area for many generations to come.
Ditch the Disposables
Today, there are non-disposable options for nearly everything that you need while camping. Look for camping dishes that are easy to clean and take your regular water bottle from home. Most campgrounds offer water faucets throughout the park, allowing you to easily refill your containers as often as needed. This will reduce both paper waste and plastic water bottles from the campsite. If you do need to use paper plates or other disposable containers, look for products that are biodegradable and made from recycled or sustainable sources.
There are also alternatives for paper towels and napkins. Cloth paper towels, called unpaper towels, are thin layers of muslin that can be washed and reused time and time again. Bring along a dozen of the reusable towels and store the dirty towels in a waterproof bag until you can wash them. Camping is a good time to teach your children about your commitment to living an eco-friendly lifestyle. Take the time to make sure that your campsite is cleaned thoroughly, even if the trash was already there, before heading home.
Staying Comfortable
If you need to purchase camping gear, you have the option of choosing products that are made with the environment in mind. Eco-friendly sleeping bags, for example, are made from organic materials that are sustainably harvested. Bamboo fabrics are among the most commonly used in eco-friendly sleeping bags, tents and more. Renting or borrowing camping gear is a simple and affordable alternative to buying your own. You will still need to pack some basic personal care items if you choose to borrow camping gear.
You will want to choose personal care products that don't have an impact on local lakes and streams. Choose soaps that are made for outdoor use to ensure your grooming doesn't interfere with local habitats. You will need to bring a shower if you stay at a primitive campsite. Look for a camp shower that is made from PEVA, a material that is safer than traditional PVC plastics. You will definitely need a couple of flashlights while spending time in the outdoors. Opt for solar powered lights to eliminate the need for batteries, or purchase rechargeable batteries that you can charge in your car during the day.
Eco-Friendly Cooking
Nothing beats a campfire meal with your friends and family. Solar powered cookers are one option for preparing food. You will need to set your meal up early in the day to allow it to cook for several hours. You may want to look for a simple wood burning camp stove if you will be using a campfire for warmth and light at night. A wood burning camp stove will utilize an energy source that you will already be using and you will be able to use the stove for many years, and many camping trips, to come.
Photo of camping by Barriere Lake, British Columbia, Canada.