In recent years, the safari holiday has become the most popular form of adventure break. When thinking of a safari, the first thought that springs to mind for many people is travelling across the plains in a jeep but there are actually many more types of safari that can be enjoyed.
Although safari holidays can be enjoyed on a number of continents, undoubtedly the most popular destinations lie in Africa. The second largest continent on the planet is home to the Big Five of the animal kingdom, which consists of the lion, leopard, rhinoceros, African elephant and Cape Buffalo. The chance to spot all of these amazing species, amidst some truly spectacular scenery, is too good an opportunity for most wildlife lovers to pass up, making Africa the place to go for spectacular safari holidays.
Driving Safari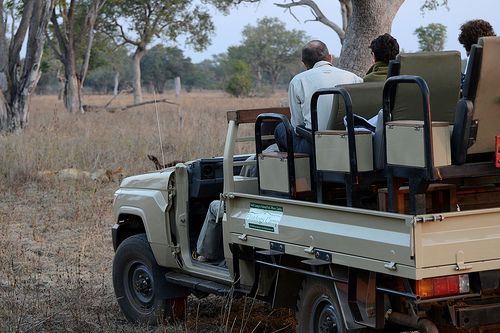 Safari Jeep in South Luangwa National Park, Zambia via Flickr.
Guided driving tours are still the most popular method of enjoying African safari holidays. These usually take the form of an experienced driver taking you through a game reserve, concentrating on the areas which are the usual habitat for your favourite species. Although, for most people, this remains the safari of choice, there are now a number of other ways of taking in the amazing landscape and fascinating wildlife of this truly astounding continent.
Walking Safari
Taking a walking safari really gets you back to nature and makes you feel a part of the wilderness. Obviously a trekking safari is more suitable for people who are of fairly robust health due to the amount of walking involved in a very hot climate. However, being able to get fairly up-close and personal with local residents such as the Black Rhino is an experience which will linger long in the memory and ensure you will be searching for more African safari holidays as soon as you get home.
River Safari
One of the more luxurious ways of enjoying a safari holiday is by boat. Many of Africa's wild animal population can be spotted from the deck of your boat including elephants, waterbuck and giraffe. Of course, being on the river, you are also very likely to see huge hippo and the apex predator, the crocodile.
Camping Safari
As with the walking safari, camping out in the African wilderness is an exciting way of getting back to nature and becoming part of life on the plains. Accompanied by an experienced guide, most camping safaris take the form of driving across the reserves and pitching tents in various locations at night.
Cycle Safari
This type of adventure is for the truly energetic and fit. Covering large distances during each day, a cycling safari gives tourists a true sense of freedom travelling though areas of amazing scenery. As with all the various types of safari, an experienced guide is always on hand during a cycle safari.
With people continuing to look for holidays with a difference, the popularity of safari adventures will continue to grow. There truly is no better way of feeling a part of nature.