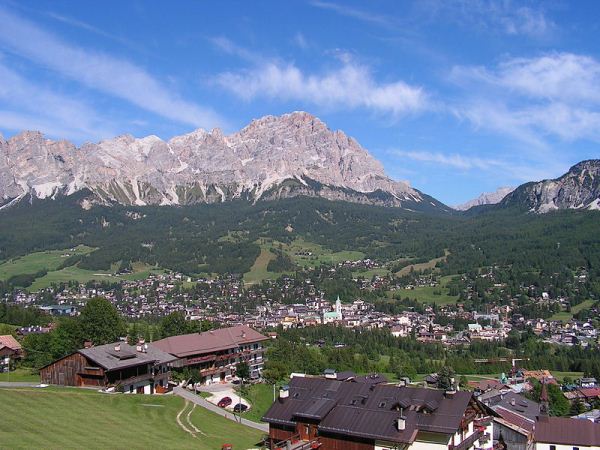 Home to two of the most expensive real estate markets in the world, Italy is a jet set destination for many of the world's elite. Edging out Portofino, Cortina d'Ampezzo is an Alpine retreat that lays claim to being the most expensive real estate market in Italy. This northern Italian hamlet is a popular destination for the wealthy, who love the area's charm, exclusivity, and world-class skiing. There are many factors that determine Cortina d'Ampezzo's rising real estate costs, and with homes selling at an average of $3028.00 per square foot, it is worth further examination.
Location
Real estate prices of popular ski destinations have historically been much higher than average. For example, the average price for a home in Telluride, Colorado is much higher than a similar sized house in nearby Durango. Like Telluride, Cortina d'Ampezzo is a world-class ski destination. Its isolated location in the Dolomite Mountains of the Northern Italian Alps is directly responsible for its real estate pricing. As far as ski resorts go, no location can offer what Cortina d'Ampezzo does. Its numerous resorts offer over 740 miles of slopes. The famous slopes are home to The Women's World Cup of Skiing and the Alpine Skiing Championships. The quality skiing offered by Cortina d'Ampezzo obviously comes at a premium.
Rising Elite and Increased Popularity
The steadily increasing numbers of wealthy individuals throughout the world directly affects real estate prices in Cortina d'Ampezzo as well. Wealthy people have numerous residences. Cortina d'Ampezzo has been a second home to Milan's elite for quite a while, but more recently its world-class ski resorts and amenities have been attracting wealthy investors from the rest of Europe and all corners of the globe. Most of these second homes are lavish in nature, with very few "typical" residences. This also affects the area's average home value.
Scarcity and Exclusivity
Cortina d'Ampezzo is tucked quietly in a valley between the UNESCO World Heritage designated Dolomite Mountains. Its challenging geography makes development and expansion very difficult. Therefore, there are a limited number of residences available at any given time. This home scarcity, in addition to the world-class skiing and shopping, adds an aura of exclusivity. Wealthy people love rare and exclusive finds, thus more and more wealthy are attracted to Cortina d'Ampezzo. This mixture plays a critical role in the rising home values in the Cortina d'Ampezzo real estate market.
Amenities and Nightlife
The streets of this beautiful alpine town are lined with exclusive high-end fashion boutiques, fabulous restaurants, bars, and nightclubs. Word has gotten out that the après ski scene in Cortina d'Ampezzo is the best in the world, offering residents something to do all the time. Here, residents and visitors can ski the world-class slopes during the day and enjoy a bevy of entertainment options at night. If not skiing, they can enjoy a day at any number of the fabulous spas and taking in the beautiful setting. The abundant cultural offerings, is yet another reason for the area's increasing popularity and rising real estate prices.
Upon first glance, Cortina d'Ampezzo may seem like a quiet little mountain town. However, this world-class retreat is home to famous ski resorts and a winter home to many of the world's elite. The real estate market here seems poised to trump Portofino and the rest of Italy for quite some time.
Reference: Yahoo Finance – The Most Expensive Real Estate Markets in the World